Merrick Dog Food Company History
Merrick Dog Food was founded in 1988 by Garth Merrick, his wife Susie Merrick, their four children and their Ever Best Dog. This enterprise started off as a family affair meant to provide the best dog foods for your best friend (s).
The four of them created this enterprise at their ranch in Hereford, Texas. This is located just outside Amarillo. Their main goal and sole purpose were to develop and make nutritious, wholesome recipes that adorable pets all over the globe deserved.

Here is one of Garth Merrick's favorite quotes outlining the core principles of the company he created.
"Our faith, family and country have always been at the core of what our company is about. It was true when we started, and it's still the same today."
———-Garth Merrick————
Flossie was one of the first offering provided by the company as a natural treat for dogs. It made dogs really feel special. When Merrick decided to bring the treat to industrial trade shows, this treat found instant success among dog owners.
The Flossie orders began to roll in like crazy, making Garth set sights higher. The company began to make high protein and all natural dog food. The raw materials consisted of the freshest and the highest quality of ingredients that could be sourced.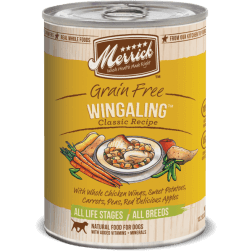 These were then handcrafted in the company's kitchen with no shortcuts being made. The foods consisted of no preservatives and absolutely no fillers. These dog foods soon became hits, and the company never looked back as it continued to grow.
To this date, the Merrick Dog Food is still continuing with its good job of creating the Best Food Ever for the Best Dogs Ever. The Best Ever Employees of Merrick still hold onto the dream that started way back.
Some of the recipes the company has and still creates include; Grammy's Pot Pie, Thanksgiving Day Dinner and Turducken in 2003. The award-winning recipes consisting of chicken and beef or buffalo was created in 2004. The Real Food Revolution began in 2012 through to 2013, when Purrfect Bistro for cats was introduced.
The Merrick Backcountry was introduced in 2015 to provide your dog with the ultimate ancestral canine diet. New diets continue to be crafted routinely here based on arising dog and cat demands.

Merrick Dog Food Reviews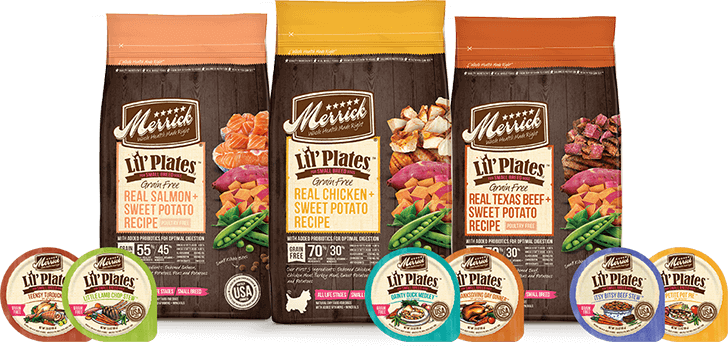 Merrick Dog Food produced a huge range of products that dog owners have fallen in love with. With the consistency that the company has shown in delivering the best products using the freshest, high-quality ingredients, the result is dog foods with leading protein, omega 3 fatty acids and omega 6 levels. Fresh fruits such as peas, sweet potatoes and blueberries also provide for a healthy meal.
Here are detailed reviews of some of the dog foods that this company has and continues to produce on a daily basis.
Just as Merrick Dog Food philosophy goes: "the best dog ever deserves the best food ever" this food is made from a grain-free recipe. This provides the best quality dog food to your best friend in terms of quality, taste and nutrition.
The preparation process starts with deboned real meat, poultry or fish as the lead ingredient. This avails the highest protein content for your canine friend. The recipe also contains farm-fresh vegetables and fruits. Peas, blueberries and sweet potatoes are such ingredients.
With the realization that recipes are tastier than formulas, Merrick has been cooking all natural dog food, handcrafted in their own kitchen for close to 25 years now.
A healthy dog requires healthy fats and high-quality proteins. Merrick Grain free dry dog food provides exactly that. The whole foods are sourced from local farms and used to create a nutritionally balanced dog food.
This grain-free meal is ideal for dogs of all ages and breeds. The focus is to provide natural nutrients for good dog health. All these will be the needs of any dog.
Texas beef which has been deboned tops the ingredients list. Meat leads to the development of lean and healthy muscles in your dog. Omega fatty acids support the development of healthy coat and skin. For joint health, your dog is enriched with glucosamine.
These high standards are realized in an organically certified cooking kitchen, operated under the one batch at a time principle. All the ingredients are locally sourced, with none being sourced from China. No fillers or grains such as corn, soy or wheat are used in the recipes.
Other ingredients include; Lamb meal, sweet potatoes, peas and potatoes. The lack of grains helps curb grain sensitivities, improve the gastrointestinal health and eases digestibility.
Pros
High-quality ingredients
Fit for dogs with allergies
Meant for dogs of all ages and breeds
Grain free
No imported ingredients
Cons
This dog food from Merrick is worthy of a fork. That is just how these dog foods are held in high regards. The recipe for this food is wholesome, real and is made from deboned meat and freshly acquired farm products that have been inspected and approved by the USDA
These recipes contain industry-leading levels of high protein, chondroitin and glucosamine. The high quality is just what your dog needs as much as you do. Your pet, either cat or dog deserves only the best of the best. As part of our family, they deserve nothing less.
This scientifically formulated wholesome food is premium, holistic, delicious and natural. It contains no fillers for the highest quality. Just as other dog foods, this one too contains no ingredients imported from China.
This dog food is made with the most essential and simplest ingredients. No preservatives, artificial colors or flavors. It starts with deboned meat as the single animal protein source. This protein provides important vitamins, amino acids and minerals.
The common source of dog sensitivity such as corn, gluten and soy ingredients are allowed nowhere near this recipe. The single source proteins in collaboration with carbohydrates support a healthy dog digestive system.
This food is rich in glucosamine and chondroitin. In fact, the levels of these ingredients are industry leading. They are also essential for joint health and hip articulation. Some of the other important ingredients present in this dog food include; deboned salmon, salmon meal, sweet potatoes, peas, sunflower oil, minerals, organic alfalfa, vitamins and rosemary extracts.
Pros
Contains no fillers
Healthy
Delicious
Perfect for dogs allergic to chicken
Easy on sensitive dogs
Cons
Pricey
Some dogs do not eat it
How about something wet for your buddy's insatiable taste buds? This canned food is made from a high quality, humanized and innovative dog food recipe. This grain-free recipe comes to life when real deboned poultry or meat is balanced with fruits and vegetables. Other ingredients that you may find in this food include duck, fresh carrots, sweet potatoes and granny smith potatoes.
All these are combined and crafted batch after batch for a wholesome and balanced nutrition. All the ingredients are sourced from the United States, assuring you of quality and the best dog mealtime experience.
To ease digestibility of the dog meal, no gluten ingredients or grains are added to the recipe. Corn, wheat and soy always provide a challenge to dogs' digestive systems. No funny artificial colors, flavors or even preservatives are added to the recipe.
Before feeding it to your best friend, shake it well and ensure you refrigerate any remaining portions. The amount of activity of your dog determines how much food you should give your dog. Provide plenty of water too.
Pros
All-natural ingredients
Perfect for finicky eater dogs
High quality
Offers your dog a balanced nutrition
Cons
Some dogs not thrilled
Mushy
Merrick Dog Food Products
Amongst Merrick's dog foods line of products, you get a host of other healthy foods besides the ones that have been reviewed. They may be too many to fit in an article, but here is a sample of the same.
Classic: Another one for puppies
Treats: Contains deboned meat and natural recipes
Backcountry raw: Can act as a treat
Classic real beef plus green peas recipe with ancient grains.
Merrick dog food retailers
Merrick Products are the best dog and cat foods on the market. And you love your pets, so why not buy them the best? In this day there are many retailers available in market like petco, Chewy.com, amazon.com, PetFlow.com, Doctors Foster & Smith, Transition to Merrick Pet Food.
Final word
Why choose Merrick dog food? You may ask. This company delivers you the quality you want, the nutrition your dog needs and the taste they love. This company believes that your pet is worthy of the best food. With this in mind, only the highest quality ingredients from trusted farmers and ranchers are handcrafted in the company's kitchen.
With its five star promises of trusting local growers, using real whole foods, handcrafting all these in their own kitchen, balanced diet and health you can see, the foods produced are the best for the best pet ever.
Read also: Probiotics for Dogs – A Pet Owner's Guide