June 5, 2017
Dog Vomiting – Causes, Symptoms and Treatment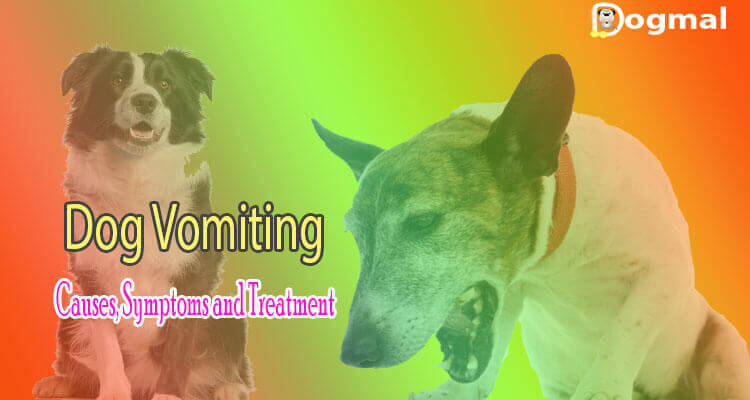 Last updated on December 10th, 2019 at 04:38 am
Today, many diseases are seen in dogs, such as rabies, rheumatism, wounds, diarrhea, lymphatic disease, kidney failure, etc. In all these vomiting is a most common problem in all the dogs. There are many possible causes for these conditions, including viruses and parasites, something very simple like having eaten something bad, or something more complicated like cancer or organ problem

What is vomiting?
The top three presenting complaints for dogs in every small animal veterinary clinic are ear infections, itchy skin, and vomiting. Vomiting is the forceful expulsion of stomach contents through the mouth. Vomiting usually indicates irritation in the stomach and upper small intestine. Some vomiting is normal for dogs.
Dogs vomit for many reasons including an irritated stomach, eating too fast or too much, or sometimes because of nervousness. It is a clinical sign that can occur with many diseases or problems; it is not a specific disease or diagnosis itself.
Signs of a pre vomiting Dog
Vomiting is stressful and unpleasant for dogs and their owners. It usually is preceded by nausea, profuse salivation, licking of the lips, repeated swallowing, retching and forceful, uncomfortable abdominal contractions.
Wandering: – a dog will often wander aimlessly right before he vomits.
Stiff Stance: – your dog may become rigid as he attempts to keep from vomiting.
Wretching: – that noise that comes from your dog that sounds like he has something stuck in his throat. You will also see his throat straining back and forth
Causes Acute Vomiting in Dogs
There are many causes of vomiting. Vomiting causes dehydration and can also lead to nutritional imbalances, electrolyte disturbances, muscle weakness, tremors, inflammation and irritation of the esophagus, poor body condition, weight loss and aspiration pneumonia.
Vomiting occurs sporadically or irregularly over a longer period of time can be due to stomach or intestinal inflammation, severe constipation, cancer, kidney dysfunction, liver disease or systemic illness. As with acute vomiting, there are a number of conditions that can cause frequent or chronic vomiting:
Intestinal obstruction
Cancer
Parvovirus
Colitis
Constipation
Liver disease
Kidney or liver failure
Systemic illness
Intestinal inflammation
Pancreatitis
Uterine infection

The causes of vomiting are so varied that sometimes obtaining a diagnosis can be difficult, so it's important to give your veterinarian as much information.
Toxins such as lead, household solvents, certain plants, or antifreeze can cause vomiting as well. If you suspect your dog has ingested something toxic, call your veterinarian right away.
Certain prescribed drugs, such as antibiotics or pain medications, may irritate a dog's stomach or trigger a vomiting reflex. If you suspect this is the case, stop the medication, and consult your veterinarian promptly.
You should check if your dog has been exposed to the following causes that can lead to vomiting:
Bacterial infection in the stomach
Intestinal parasites
Acute kidney failure
Pancreatitis
Bloat
Diet related causes which includes diet change, food intolerance and ingestion of garbage
Acute liver failure or gall bladder inflammation
Viral infections
Car sickness
Post-operative nausea
May have ingested pesticides or insecticides
Food allergies
Diarrhea
Ingestion of toxic substances
Infected uterus
Symptoms of dog Vomiting
Vomiting is a fairly common condition in dogs, which happens more frequently in canines than in other domestic animals. It is the result of an active central nervous system reflex, which can be triggered by a number of different things. Vomiting is not the same thing as regurgitation. Vomiting involves active abdominal effort
Chronic, frequent, or long-term vomiting is also a cause for concern, especially if it is accompanied by the following symptoms:
Blood
Abdominal pain
Depression
Dehydration
Weakness
Fever
Poor appetite
Weight loss
Other unusual symptoms
Treatment of dog vomiting?
First, withhold all food and water for 2 to 4 hours. If there is no further vomiting, start your dog on small sips of water or crushed ice. In another 2 hours, offer a larger drink of water. If this stays down for 2 hours, it's time to try feeding.
Treatment of vomiting depends on diagnostic findings and severity of symptoms. Dogs that are bright, alert, and have normal physical findings can be treated on an outpatient basis with subcutaneous fluids and inject able medications. Those dogs presenting with fever, abdominal pain, or that have abnormal test results, may need hospitalization and further intervention.
If your dog vomits three or more times in 24 hours or shows other signs of illness such as listlessness or diarrhea, contact your veterinarian or emergency clinic immediately. If you're not sure what to do, contact your veterinarian or emergency clinic for advice.
How to take care?
Change your dog's diet: If your dog has vomiting disease then change your dog's diet. A dog that has been vomiting should not be given too much food. You should only give half of your dog's normal intake. If your dog is experiencing a severe case of vomiting, keep them away from chew toys, treats or other human foods that. You should never feed your pet the fat trimmings from the meat you eat for dinner. A fatty diet might serve as the root cause for your dog's chronic vomiting .
Natural Supplements: Natural supplements are available for purchased at many local and online pet stores. These following can help to soothe your dog's stomach:
Digestive enzymes
Probiotics
Vitamin B complex
Feed your dog fiber-rich foods: As mentioned before, you must feed your dog with a lot of fibers if he's vomit. Fiber helps in reducing stomachic distress. similar to in humans, food made in fiber are rice or canned pumpkin. Fiber-rich food cleans up the abdomen of any toxins which will have caused it to be upset.
Herbs:
These herbal teas can be added to your dog's food and may help to settle their stomach:
Chamomile
Fennel
Ginger
Peppermint
Baking soda in water: You can actually treat your dog with simple home remedies. One of which is mixing one teaspoon of baking soda to ½ cup of water. Feed your dog with this mixture every 2 hours with a few sips at a time.
Use Ginger: When your dog starts having bouts of vomiting, try a ginger remedy for relief. The carminative property of ginger will quickly calm down the stomach and stop your dog from throwing up.
Give Coconut water: It's contains electrolytes that help prevent dehydration in vomiting dogs. To keep your dog hydrated during this tough time, serve him plain coconut water.
Recommended pet medications for vomiting in dogs
Metoclopramide – $0.26 per tablet
Fast Balance-G.I. – $22.49
NaturVet Digestive Enzymes Plus Probiotic Powder – $21.99
Sucralfate – $0.65 per tablet
Cerenia – $17.99
Upload best Photos of your dog and we will show your dog photos in our Dog Gallery.
Submit your dog Photo
Click here to see more photos
Done. I tried to include maximum information in this post. Please like and share if you like this post. If you have any information about Dog Vomiting, then send me via the contact form or comment below.
If you love to read information about various dog breeds, keep reading more posts here and take a look at most popular dog breeds 2017
References:
petwave.com
pets.webmd.com
dogsaholic.com
akc.org