Dogs are the earliest/ancient human friends. They were domesticated around 34,000 years ago. Everybody must have heard a fairy tale of how the dog became a human friend, how it left the wild and opted to stay with a human. Since then, it has turned out that the dog has been of great help to a human being. It ranges from being the home guard, security and military agencies across the world and the popular one kept in almost every homestead as the pet.
The ties and bond of love between the two inseparable friends is such strength that it's almost the same as that of the human toward their children. Scientist attributes this great band's source from the fact that look in the eyes between human and the dog stimulates the production of a hormone called oxytocin, which is responsible for the unconditional feeling of love and protection. Therefore, the human being has done their best to ensure that the bond strengthens more by keeping their dogs more happy and lively by making toys to them.
Discussed herein are some of the awesome 'Do It Yourself' toys that things around your home can make.
Interactive Dog Feeder Toy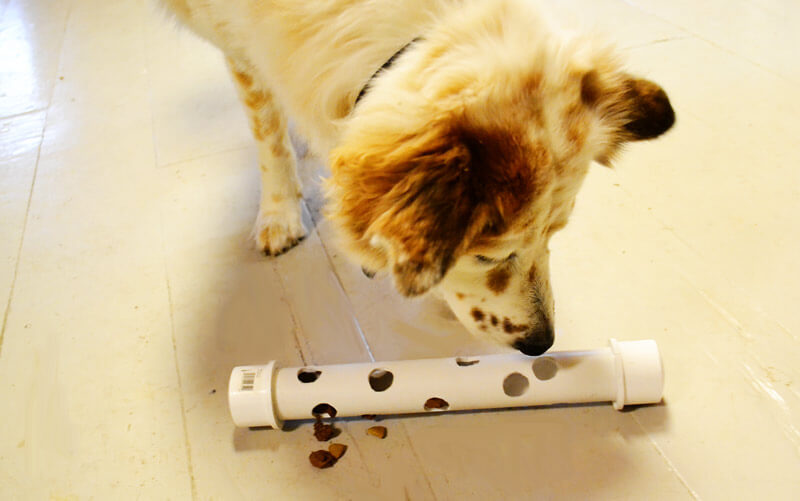 This type of toy topped our list. After a busy day or after taking a short walk around the town, you will need some fun and snacks as well. This DIY toy is the easiest to make. You need just a small tube about 15 centimeter in length and two bottle lid, PVC pipe suits better. Small perforations are then made on the sides of this tube, and then one side is sealed completely and another side so that it can be opened whenever need be. Every time you are taking snacks, you shouldn't forget about your best pal and put some snacks in this dog feeder toy. Your dog pet will love this since it will motivate your dog to continue making fun as it gets some snacks in return! It also the best way to get your dog's brain at work.
The DIY Bottle Spinner Puzzle Game for the Dog
The most effective way to keep your dog busy improve its mind capability. The game is made in such a way that there are suspended rotatable bottles of food inside them. Every time the dog strives to spin every bottle as many times as possible to access the food. The puzzle game is not hard to make. You require 0.5-meter long wood considerably wide, two stands, three bottles and a smooth PVC thin metal pipe. Drill through the three bottles, then pass the pipe through the bottle and remember to ensure that they can easily spin. Then this attached with the already attached stands, and the game is ready. The dog will enjoy this as you get yourself busy cooking or when not in the mood to play with the dog.
The Tennis Ball Toy and Rope
Want to make your dog lively and have more fun? Spare some dollar and buy a stiff fiber rope and tennis to make him/her this toy. To make this, drill holes on either side of the tennis ball considerably large to fit the rope through it. Then gently slip the rope through the tennis and tie knots on both sides of the rope to keep the tennis in place. You may opt to hang this at a higher level when your dog can be jumping for the tennis. However, if your dog is a tougher chewer, be sure to be replacing it more often; otherwise, you will have to use a more tough fabric rope. No such great feeling watching your dog have fun while you enjoy your champagne under the tree shade on a sunny day. You get entertained too!
The DIY Flirt Pole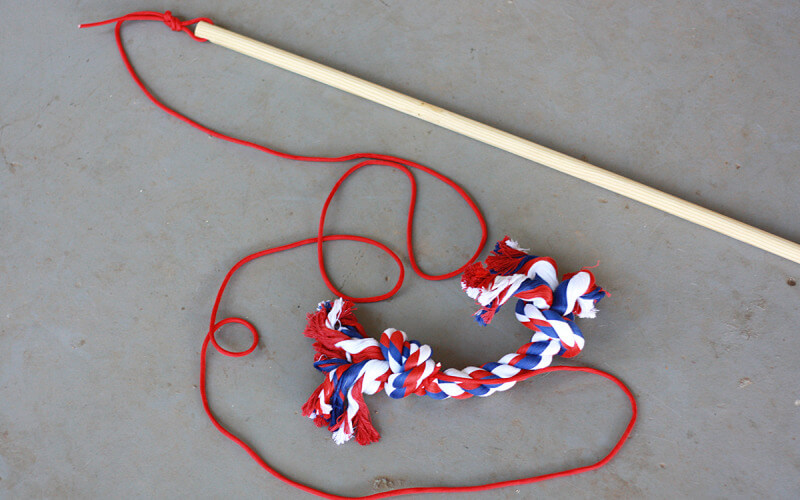 It's easier to make since it doesn't require much materials or time. You require a long PVC pipe, approximately 1.5 or 2 meters long, a string and some bait, which can either be some stuffed toy or an empty water bottle. Using the long PVC pipe, drill a hole on one of the sides, then tie a strong string through it. The string should have bait or treat attached on the far end, and you are done. It will give you both some time for fun as the dog tries to catch the bait. It also improves your buddy relationship when he is panting, glancing at you the whole time. It is such an awesome feeling, especially on the weekend at the park, huh.
Making of the Plastic Bottle Dog Toy
Everyone pretty sure of their dog love; the obvious one will be 'my dog love loves crunchy stuff', which is true. The plastic bottles wrapped in some old t-shirts gives such a satisfying crunch. You need a tough fiber sock if your dog is a tough chewer or for a long-lasting purpose and an empty water bottle. Wrap the bottle on stiff fiber socks or any fiber of your choice. It will aid in relaxing your dog as the feeling is such awesome.
The Doggie Tug Tie from an Old T-Shirt
Well, you must be having that old t-shirt that you no longer wear. You can make use of its by making a doggie tug toy for your dog. You have to cut it in threads-like strings, then braid a rope-like with knots at both ends. Can combine t-shirt of different colors to make the tug toy more appealing. To safeguard yourself from dog- aggressiveness, you must establish some rules with your dog like "game ends if you bite me".
DIY Interactive Tennis Ball Dog Toy.
Most convenient and easy to make toy around your house. You only need just 10 minutes to do this. Among the things you need include a tennis ball and scissors or a sharp knife. It would help if you then cut the tennis ball either across or along the 's' on the ball then put some treats in the tennis. You may use super glue to seal it together, and the toy is ready to make fun of your dog. As you enjoy sunrise or sunset, the feeling must be immeasurably great.
Tennis Treat Puzzle Toy
The canine babe, how dogs are often referred to, maybe very bored the whole day after you left for school or work. You need to up the mood and chase the boredom from him/her. Tennis treat puzzle toy will work best. It would help if you had puzzle plates and several tennis balls and treats or kibbles. Place the treat/kibbles only in some pits of the plate, then place the tennis ball in the pit. Let the canine babe find the treat from every pit. This puzzle toy not only improves his smartness but also makes him lively. It would help if you tried this out after a bad day in the office; it will help you get relieved.
Rope Tug as Chewing Toy
Most of the canine friends love chewing more than anything else. You need to wrap or knit that old t-shirt that you've neglected to a rope. Then add or spray them with flavors of apple or any fruit flavor. It makes them chewable and is easier to make. I hope after this article you will make one for your friend.
Stuffed dog pillow toy
After much fun and vigorous fun, your canine babe may be in need to take a nap. Make him comfortable by sewing him a stuffed pillow. You need to have that scrap t-shirt from your wardrobe and sew it around. Join the pieces of craps into the center pillow, and your canine friend will be more than appreciative. Be sure to combine different colors, it more attractive.
A Cereal Box with Treat inside Taped and Shut
It is the best way to test the brain capacity of your canine buddy. You only need an empty packing box, treat and tape. You are then required to put treats inside the box, and tape shut the box. Have fun as you watch your buddy struggle to open the box. Well, this works for the smart buddies. However, destruction of the box is expected as the canine buddy tears open the box to get treats.
DIY Slingshot Toy Made From Hanger.
You and your buddy may be much bored. With a hanger and a tennis ball, then you can help overcome the boredom. You only need to use the hanger as a sling and shoot the ball for your buddy to collect. Every time he collects, you give him the treats, then the game will game better as he will aim to get more and more treats from you.
Toss-Able Toy Made From an Old T-Shirts
Puppy at their early stages of life likes chasing thing. Then the old t-shirt can be of great help in making such toys. The puppies enjoy as they toss the toy up and down. As far as this aim to bring fun, it also helps boost their strength as it is vigorous.
A DIY Tennis Ball Foxtail.
It is another best method to entertain your buddy. You also make use of those abandoned clothe, and you reuse tennis. Dogs love this game. It would help if you had an old tennis ball, a needle and some scrap fabric suitably lightweight nylon. Cut the scrap fabric such that it is 30-inch long and at the ends are 9 inches wide and at the center 2 inches. It's advisable to use the fabric of various color to make the foxtail more appealing to your canine buddies. Then fold your fabric lengthwise and sew along the side and across the narrow tail tip. Now insert the tennis ball into the opening of the tail section. Then stitch the tail to the ball. It's such efficient that even your tougher chewer buddies can't destroy the tennis. And you are done! You can now swing it around a couple of time and let your buddy rip her.
Paper Treat Toy.
It is another best way to keep your buddy involved. It would help if you had a tin, some sheets of paper and some treats. Roll the papers and then place them in the tin or a bowl. Fill the ball with treats inside it. Then give your canine friend to find the treats inside the rolls of paper. This game keeps your buddy mind sharp and motivated.
A Leggy Toy Made Of Fleece Scraps
Raising puppies can be such fun, especially if you don't limit the fun to puppy first. Leggy toys made of fleece scraps are best for your puppies. It's made by sewing different tough fibre ropes together with knots at ends. It made from different colors are more attractive even to your most dull canine pal. It should as well have at least three tail ends. When they are bored, be sure to give them a leggy toy and watch the tug-of-war. It's more fun!
Simple Denim DIY Dog Toy
Get some fun for your tougher chewer canine buddies; then denim dog toy is the best choice. It's simple to make. In less than 5 minutes, you are done. You only need those old jeans lying unused in your wardrobe and tie a tight knot at the center of 15-inch long scrap. Then give it to your buddy and watch him chew. To make it more chewable, you may opt to spray it with apple or any fruit flavors; the dog likes this.
Make Your Own Rope Ball Dog Toy
This toy is most appropriate for your tough chewer canine friend. It is among the easiest dog toy to make. You only need a tough rope to roll it so that a ball-like shape is attained. Give it to your puppies and enjoy watching them pray the soccer! It's such a fulfilling experience.
Also read: Finding the Best Toys for Beagles – A Buying Guide