Germany has the third largest production of dog breeds worldwide. More than 50 different dog breeds marketed in the United States come from Germany. Choosing a German dog names for a new puppy makes perfect sense, especially if the Dean Hund is descended from one of the many popular German dog breeds, including the Doberman, Great Dane, Pomeranian, Weimaraner, Schnauzer, Boxer, Shepherd, or miniature Rottweiler.
Families wishing to represent their own German history in their pup's name may find these German dog names to be of interest. German dog breeds come in a variety of sizes large, medium, and small and were developed to do a variety of tasks, including herding, guarding, hunting, and capturing rodents.
Most Popular German Dog Names
One of the most well-liked breeds is the German dog. They are stunning, energetic family dogs known for their devotion and unbounded energy. Give them a name that expresses their strength because German dogs range in size from medium to large and are athletic, robust, and may surprise you with their enthusiasm and determination.
Here are the meanings of roughly 40 German dog names. Undoubtedly, one of these will be the ideal size for the dog.
Milla – industrious
Matilda – mighty in battle
Alger- noble and bright
Axel – Peaceful
Zensi- to Spring Up
Zelda – Battle Maid
Bernard – Brave as bear
Bismarck – German statesman
Winola – Charming Friend
Winifread –peaceful friend
Vera – Faith, truth
Cayden – spirit of battle
Damian – the fighter
Dieter – the people's ruler
Trudi – strong spear warrior
Ellard – noble and brave
Sonje – wisdom
Hendrik – home ruler
Garin- Warrior
Leopold- bold leader
Donner- Thunder
Max- greatest
Frauke- Little lady
Olinda- Protector of Property
Alfred- counselor
Petra – Solid as rock
Mozart- German Composer
Katrin-Great beauty
Harbin- Little shining Fighter
Raina- Mighty army
Romey- obstinate
Gerda– protected
Otto – prosperous
Rowland – famous in the land
Blitz – lightning
Aldo – Old, wise
Kaiser – emperor
Swartz – black
Ritter – Knight
Floriane – Blooming
German Dog Names Inspired By Temperament or Appearance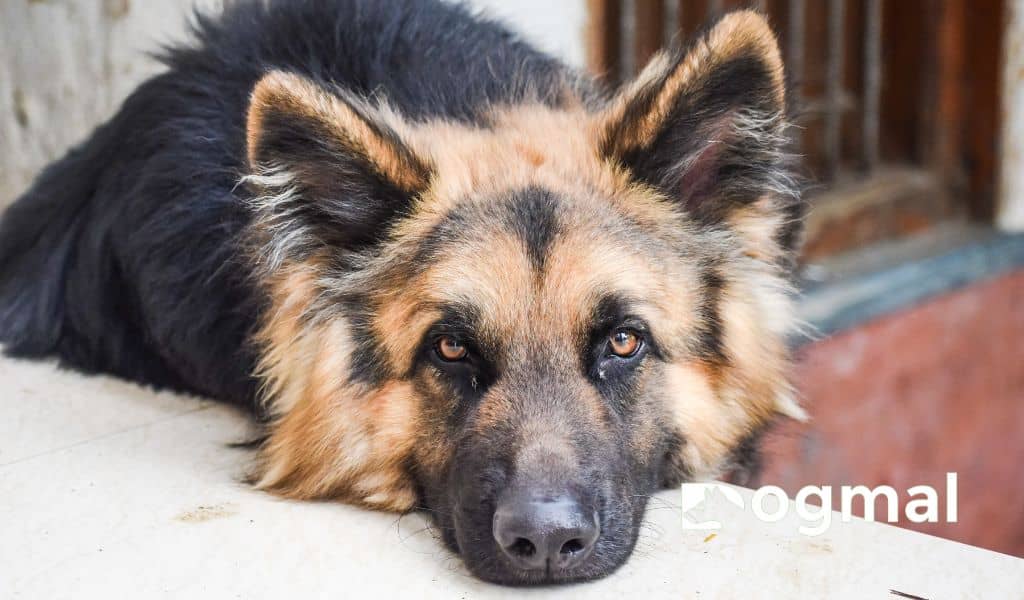 Flaumig ( Meaning Fluffy)
Fuzzi (Meaning weirdo)
Gauner (Meaning rascal)
Krümel (Meaning  little one or crumb)
Kumpel (Meaning Buddy)
Kuschel (Meaning cuddles)
Orkan (Meaning hurricane)
Panzer(Meaning tank)
Sanft (Meaning gentle)
Zuckerpuppe (Meaning Sweet little thing)
Names Inspired by Famous German People
Marlene (Dietric)
Mozart (Composer)
Bach (composer)
Boris (backer, tennis player)
Claudia (schiffer, supermodel)
Einstein (theoretical physicist)
Steffi (graf)
Heidi (Klum, supermodel)
Hildegard (Von Bingen, composer, writer and philosopher)
Male German Puppy Names
Bernard
Alvin
Adolph
Axel
Albrecht
Alaric
Alger
Female German Puppy Names
Britta
Frederika
Arabelle
Edwina
Elbe
Addie
Beatrix
Ada
Male German Dog Names
Leopold – bold leader
Alger – noble and bright
Alfred – counselor
Axel – Peaceful
Bernard – Brave as bear
Bismarck – German statesman
Cayden – spirit of battle
Damian – the fighter
Donner – Thunder
Ellard – noble and brave
Garin – Warrior
Harbin – Little shining Fighter
Hendrik – home ruler
Max – greatest
Mozart – German Composer
Rowland – famous in the land
Otto – prosperous
Blitz – lightning
Female German Dog Names
Milla – industrious
Petra –solid as rock
Raina – mighty army
Sonje –wisdom
Trudi – strong spear warrior
Vera – faith, truth
Winola – charming friend
Zelda – battle maid
Romey – Obstinate, rebellious
Olinda – protector of property
Matilda – mighty in battle
Katrin – great beauty
Floriane – Blooming
Duxi – warrior of the people
Edwina – prosperous friend
Elbe – another major river in central Europe
Frieda – also peaceful ruler
Lara – famous
Helga – holly
Also Read: Top 10 Popular German Shepherd Dog Colors Varieties
Got some questions? Or some suggestions? That's why we've got a comments section on this blog! You can feel free to leave a comment or two down below, and we'll get back to you as soon as possible!
We love reading your messages……