Hey friends, On this day, there are many different dog breeds available in the world, but in this article, we discuss some of the dog breeds in Spanish.
Spain was the original birthplace of many wonderful dog breeds. This article discusses dog breeds into four general categories like Large dogs, hunting dogs, Terriers, and herding dogs. Three officially recognized dog breeds originate in Spain.
Here is a list of the popular dogs in Spanish
Ibizan hound
Catalan Sheepdog
Pyrenean Shepherd
Ratonero Bodeguero Andaluz
The Galgo
Perro de Presa Canario
Bichon Frise
The Great Pyrenees
The Spanish Mastiff
Spanish Water Dog
10). Ibizan hound
Ibizan hound is also known as Ibizan Warren hound. This breed originates in the island of Eivissa and is traditionally used in the Catalan-speaking areas of Spain and France. They are intelligent, active, and engaging by nature. Ibizan Hounds can hunt on many different terrain types using scent, sound, and sight-to-track games.
Ibizan Hounds are generally healthy dogs, though there are some conditions the breed can be prone to. These include hip dysplasia, eye disease, autoimmune thyroiditis, and congenital deafness. Responsible breeders will screen their stock for conditions that can affect the breed.
Height: 23.5-27.5 inches (male), 22.5-26 inches (female)
Weight: 50 pounds (male), 45 pounds (female)
Life Expectancy: 11-14 years
9). Catalan Sheepdog
The Catalan Sheepdog is also known as Catalan shepherd or Perro de Pastor Catalan. They are lively, active, a handsome dog that originates from Andorra in the Pyrenees. They are intelligent and quick to learn new things, which include the good and the bad.
The Catalan Sheepdog is a medium-sized dog breed that typically stands 17.5 to 21.5 inches tall and weighs 35 to 40 pounds at maturity. The Catalan Sheepdog has always been a popular choice with families in their native land, and as time goes by, their reputation for being great around children.
Height: 47−55 cm
Weight: 20−25 kg
life span: 12 to 14 years
8). Pyrenean Shepherd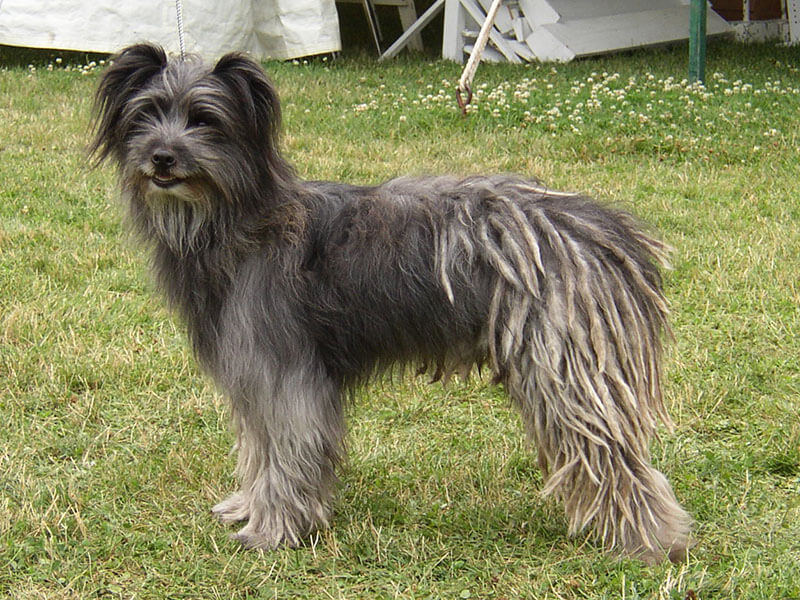 Pyrenean Shepherds originated in the Pyrenees Mountains of France, where they herded flocks. The Petit Berger is active and energetic. This breed needs loads of exercise and is perfect for families who like to play outdoors and experience nature. The Pyrenean Shepherd is also known as Berger des Pyrénées, Pastor de Los Pirineos, Petit Berger, or Pyrenees Sheepdog. The is one of the popular shepherd dogs in Spanish.
Height: 15.5-18.5 inches (male rough-faced), 15-18 inches (female rough-faced), 15.5-21 inches (male smooth-faced), 15.5-20.5 inches (female smooth-faced)
Weight: 15-30 pounds
Life Expectancy: Late teens
7). Ratonero Bodeguero Andaluz
The Ratonero Bodeguero Andaluz is also known as Perro Ratonero Andaluz. This dog is a terrier type of dog that was developed in Andalusia, Spain. This breed that was considered as wine cellar guardian was developed in the late 18th and early 19th centuries. The Perro Ratonero Andaluz is very active, lively, and tenacious. It is a good guardian and sweet with people but has a strong prey instinct.
Height: 14 – 17 inches (35 – 43 cm)
Weight: 12 – 22 pounds (5 – 10 kg)
Life Expectancy: About 15-18 years
6). The Galgo
The Galgo Español is an ancient breed of dog also known as Spanish Galgo or Spanish greyhound. Galgos are used for hunting hares in the Spanish countryside. They're similar in appearance to greyhounds, with a smaller, lighter build and smooth or shaggy coats.
Galgos are also very good with children, being calm in the house, so there is less risk of being knocked over or jumped on than with a more excitable breed.
Height: Male – 26 in (66 cm), Female – 25 in (64 cm)
Weight: Male – 60–65 lb, Female – 50–55 lb
Life span:  12-15 years
5). Perro de Presa Canario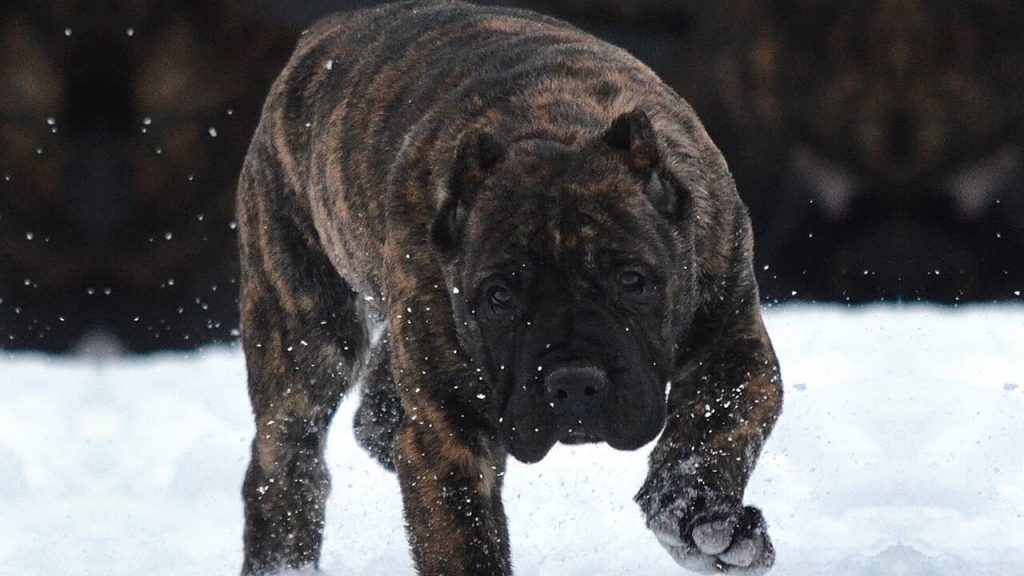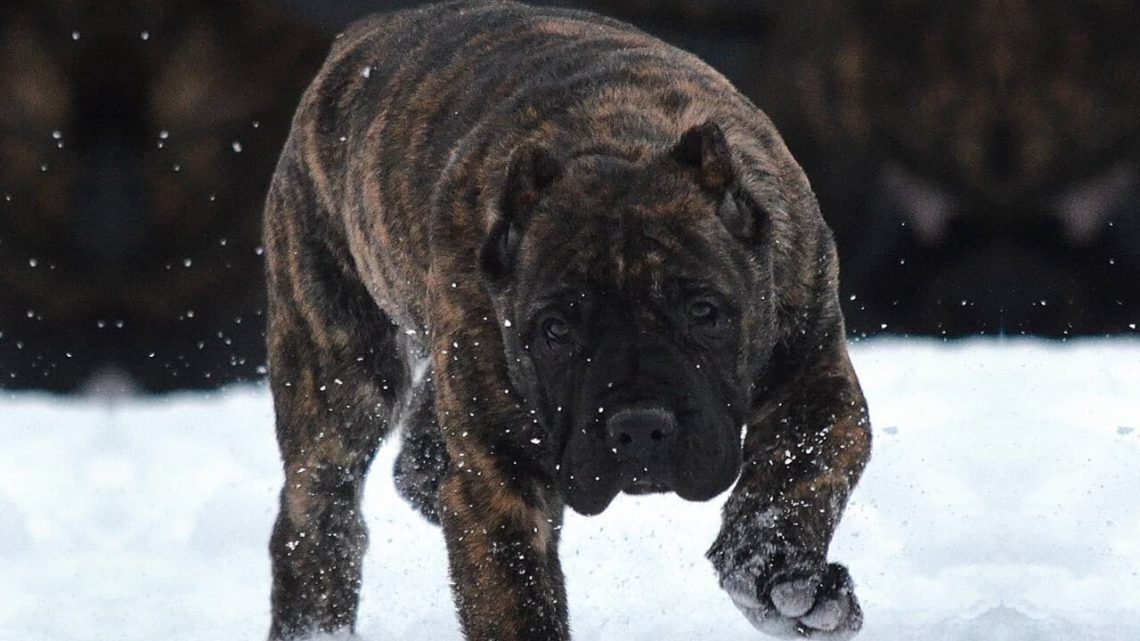 Presa Canario is a rare large molosser breed of dogs that originated to the Canary Islands, Spain. The breed is sometimes also called Dogo Canario, Canary Mastiff, Dogo Canario, etc.
This dog is large, powerful, intelligent, and headstrong. Presa can live happily in most environments as long as they receive moderate amounts of daily exercise. The Presa Canario's stance is firm and vigilant, combined with a calm and confident temperament.
The Perro de Presa Canario should do well on high-quality dog food, whether commercially manufactured or home-prepared, with your veterinarian's supervision and approval.
Height: 22-26 inches
Weight: 84-110 pounds
Life Expectancy: 9-11 years
4). Bichon Frise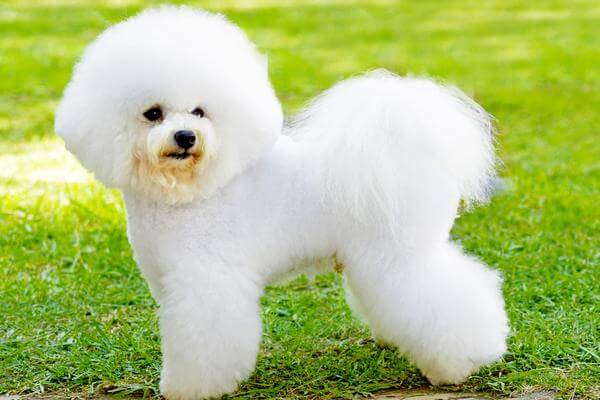 bichon frise picture@vetary.com
Bichon Frise is a small size bichon-type dog breed that originated to Canary Islands (Spain). The Bichon is one of the few breeds that truly has existed for at least 2,000 years. They are often depicted as French dogs. They are happy, curious dogs with a cheerful attitude toward life.
Bichons are active in the house and are famous for the "Bichon Blitz" or "Bichon Buzz," spurts of energy that cause them to spontaneously run around the house or yard in a frenzy while barking or even growling.
Height: 9.5-11.5 inches
Weight: 12-18 pounds
Life Expectancy: 14-15 years
3). The Great Pyrenees
The Great Pyrenees is a large, thickly coated, and immensely powerful working dog. They are originated as a flock-guarding dog in the Pyrenees Mountains of France and northern Spain.
The Great Pyrenees was once known as France's royal dog and, with his stunning white coat and imposing presence, is considered to be one of the most beautiful breeds.
They can be slow to learn new commands, slow to obey, and somewhat stubborn to train. This dog was originally bred to be a livestock guard dog and can still be found doing that job on farms and ranches.
Height: 27-32 inches (male), 25-29 inches (female)
Weight: 100 pounds & up (male), 85 pounds & up (female)
Life Expectancy: 10-12 years
2). The Spanish Mastiff
The Spanish Mastiff is a large dog with a heavy, muscular build that excels as a guard dog. The Spanish Mastiff is a very old breed, with records being traced to over 2,000 years ago. This dog is a popular mastiff-type dog breed in Spanish. This large breed was used in Europe as a herding dog for transporting and protecting the Merino livestock.
They may be a less-than-ideal pet in urban situations, where its booming voice and massive size could be problematic.
Height: Minimum 28-35 inches
Weight: 140-200 pounds
Life Expectancy: 10-12 years
1). Spanish Water Dog
image credit: spanishwaterdogclub.co.uk
The Spanish Water Dog is also used sometimes as a gundog and is skilled at retrieval from water. The Spanish Water Dog is an ancient breed. The breed IS also known as Perro de Agua, Perro Turco, Laneto, Perro de Lanas, Perro Patero, Perro Rizado, Churro, Barbeta and most recently Perro de Agua Español. He is a popular dog breed in Spanish.
This breed is a smart dog with a strong work ethic and likes to learn, responding best to positive reinforcement. The Spanish Water Dog is an extremely intelligent and well-balanced, versatile working dog with strong herding, hunting, and guardian instincts.
Height: 17.5-19.75 inches (male), 15.75-18 inches (female)
Weight: 40-49 pounds (male), 31-40 pounds (female)
Life Expectancy: 12-14 years
We hope this extensive guide helps you learn about popular dog in Spanish.
Got some questions? Or some suggestions? That's why we've got a comments section on this blog! You can feel free to leave a comment or two down below, and we'll get back to you as soon as possible!
We love reading your messages……
Read also: The 10 Cutest Dog Breeds in the World