The raw diet trend for pet dogs is on the rise, as many dog owners grow anxious about news stories about dog foods recalls. The raw dog food options that you do have are pretty sweet, enough to make those puppy tails wag and mouths water.
Raw dog food diets are the popularity of the diets which emphasize raw meat, bones, fruits, and vegetables are rising. If you looking for best Raw Food for the dog than here is the Top 10 Best Raw Dog Foods for your pups. This raw dog food is perfect for all stages of life for your precious pup, puppy, adult, and senior.
Top 10 benefits of Apples for dogs
Here is the list of Best Raw Dog Foods
1. Stella & Chewy's Freeze-Dried Dog Food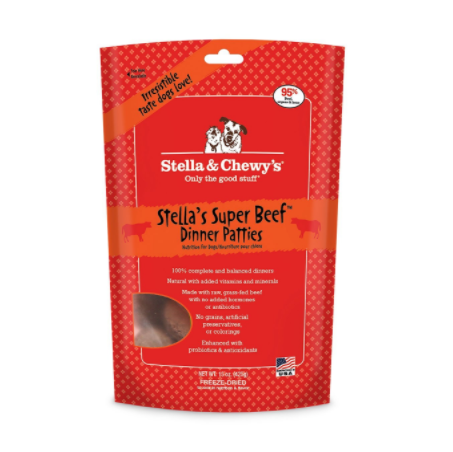 Price: $29.99
Stella & Chewy's Freeze-Dried Raw grain-free dog food is an easy, convenient way to give your pet natural and balanced meal. stella & Chewy's raw diets focus on pure ingredients and raw protein so you can feed them as nature intended.
These limited ingredient recipes are simple and pure. each batch starts with 90th or more meat, organs and bone and is often one source of animal protein, the perfect solution for pets with food sensitivities.
Each protein is grass-fed, cage-free or wild caught to guarantee your pet is eating as nature intended. Stella & Chewy's Freeze-Dried dog food also allows your dog the greater ease of digestion and relief from allergic reactions.
2. Instinct Raw Boost Grain Free Recipe Natural Dry Dog Food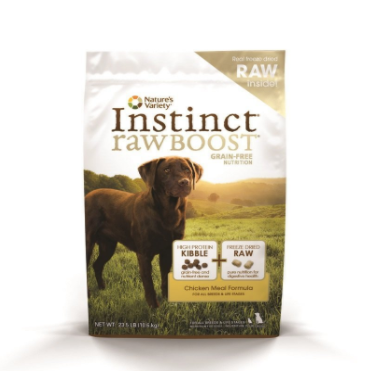 Price: $69.71
Nature's Variety Instinct Raw Boost Grain-Free Dry dog food. This high-protein, grain-free kibble and freeze dried raw pieces provides a nutrient-rich diet and pure nutrition for digestive health.
The perfect combination of convenience and nutrition to give your pet energy, vitality and vibrant health. A high protein, nutrient made diet may help your dog maintain ideal weight and lean muscles.
Additionally, the freeze-dried raw pieces provide Omega 3 and Omega 6 fatty acids for a soft and shiny coat, pure nutrition for digestive health, and a great taste your dog will crave. Probiotics to support healthy digestion and antioxidants for immune health.
3. Sojos Complete Natural Grain Free Dry Raw Freeze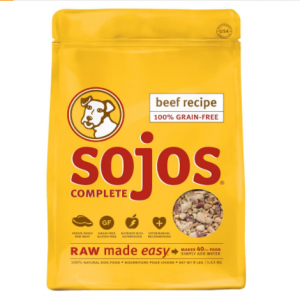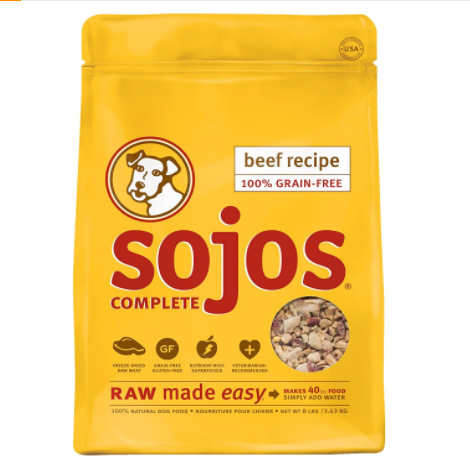 Price: $81.08
Sojos Complete Raw Natural Dry dog food it's a freeze-dried dog food, made with real freeze-dried beef, made with a meticulous quality and safety standard.
Raw, Freeze-Dried beef in addition to a blend of other high-quality fruits and veggies – so all you need to do is add water and you've got a fresh, home-prepared diet in a snap.
Contains only premium, all natural ingredients with no artificial preservatives. Sojos uses small batch baking and is proudly made in the USA.
4. Primal Freeze Dried Pet Foods
Price: $30.99
Primal Formulas are produced using only the freshest, 100% human-grade ingredients. Meat and game are antibiotic and steroid free without added hormones.
this combination of ingredients offers optimum levels of the protein, essential fatty acids, natural-occurring enzymes, and necessary vitamins and minerals that are the building blocks for your pet's healthy biological functions.
Primal Formulas offer you the convenience and benefits of a well-balanced, safe and wholesome raw-food diet without having to grind, chop, measure or mix the ingredients yourself.
5. K9 Natural Freeze Dried Dog Food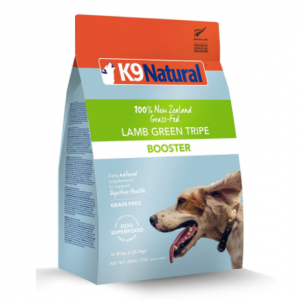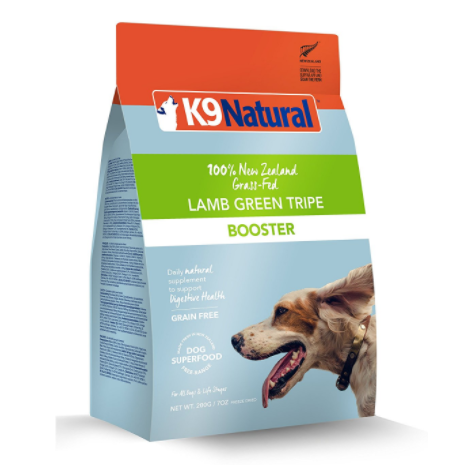 Price: $23.99
K9 Natural Freeze Dried dog food, a highly palatable superfood and one of the best additions you can make to your pet's diet. K9 Natural offer the highest level of nutrition the food is kept in its raw state all the way to your dog's bowl an excellent source of protein.
The highly palatable recipe provides optimal nutrition that's suitable for all breed sizes and all life stages. Boost the nutritional value and flavor of your dog's food with 100% New Zealand Grass-Fed Lamb green Tripe.
Helps promote and sustain healthy skin and coat, joint health and the energy needed for active lifestyles. a boost to the immune system and helps sooth gastrointestinal upsets.
6. Nature's Variety Instinct Raw Grain-Free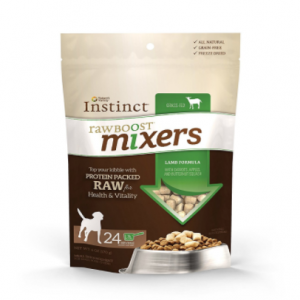 Price: $12.75
Nature's Variety Instinct Raw Grain-Free Food is complete and balanced, wholesome raw food. that can be served alone, or added to any kibble or canned food.
Instinct Raw freeze dried is never cooked raw food that provides pure nutrition for digestive health, and nutritious oils for healthy skin and coat. Adding Instinct Raw freeze dried to a pet's diet provides a nutrition-packed boost of raw that dogs and cats will absolutely love.
Nature's variety makes a variety of premium, wholesome, natural foods to keep pets healthy and happy.
7. Real Meat Organic Dog Food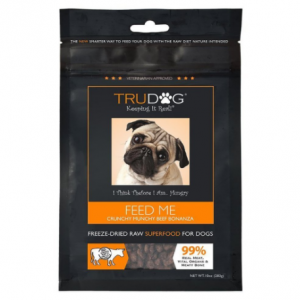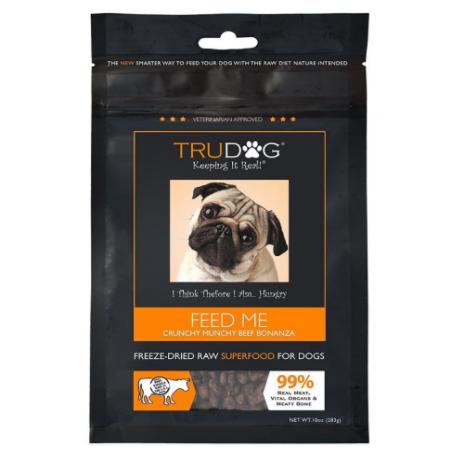 Price: $25.99
TruDog's pet food contains natural antioxidants, vitamins and protein designed to reduce allergies, itchy skin and rashes. Your dog will have a soft and silky coat.
Raw dog food made from free-ranging, Wisconsin grass-fed USDA beef, meaty bones and whole organ meats.
No more foul smelling doggie breath, dog approved and dog preferred the taste, no fear of food contamination or harmful effects of filler-laden kibble.
This particular Dog Food's meat comes from a variety of sources namely beef organs, beef oil, and beef fat.
8. Northwest Naturals Raw Rewards Freeze Dried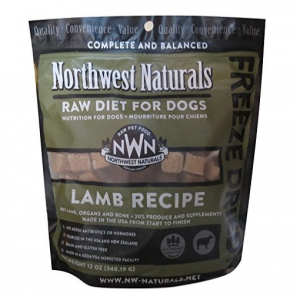 Price: $26.17
Northwest Naturals Raw Rewards Freeze Dried. a complete and balanced grain-free formula combining the wholesome nutrition of muscle meat, organ meat, fruits, and vegetables that your pet will love!
No Dog can resist a good old snack that comes as natural tasting as one so raw.
Northwest Naturals Raw Diet Freeze-Dried Nuggets is one particular dog food that tries to be a treat and a meal at the same time.
9. Instinct Freeze Dried Raw Boost Mixers Grain Free Recipe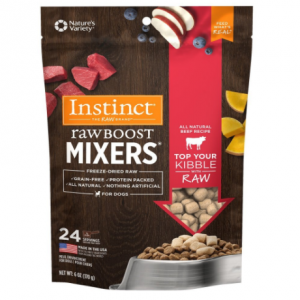 Price: $11.99
Instinct Freeze Dried Raw Boost Mixers Grain Free recipe is the easiest way to put more of the pure, real nutrition of raw into every bowl.
High animal protein in this recipe, grain-free recipes guided by Instinct's raw philosophy.
Made with real, whole-food ingredients, these mixers add raw to your pet's diet to help support proper digestion, healthy skin and coat, and overall energy and vitality.
10. Merrick Backcountry Raw Infused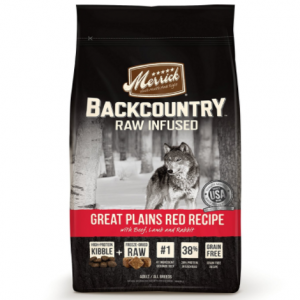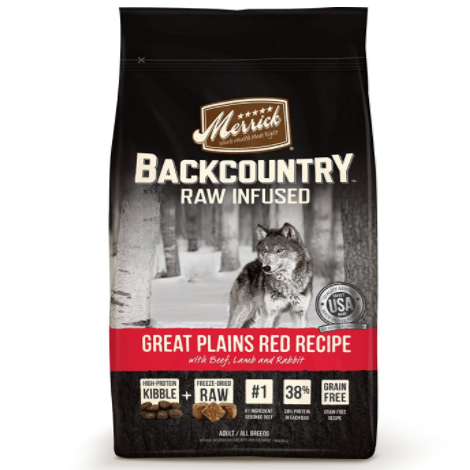 Price: $66.30
Merrick Backcountry Raw Infused recipe is complete and balanced nutrition to add moisture and flavor to a dog's diet. These recipes have higher-quality protein and industry-leading levels of glucosamine and chondroitin. It's health you can see in your dog's bowl and more importantly in your dog.
Merrick Backcountry Pet Food is made from locally sourced farm fresh meats, vegetables, fruits and whole grains. This delicious, natural pet food is worthy of a fork.
Read also:
Top 10 Best Grain Free Dog Foods
Got some questions? Or some suggestions? That's why we've got a comments section on this blog! You can feel free to leave a comment or two down below and we'll get back to you as soon as possible!
We love reading your messages……