Grain Free dog food to be simply the best for pets and better than to others food whether you just want your pet to eat healthier or your veterinarian has recommended you feed him or her a grain-free diet.
If your dogs have allergies, skin problems or sensitive stomachs, then try one of these grain-free dog foods. By removing grain, compared to typical dog food, a grain-free diet will attempt to insert more meat protein and digestible animal fats into your dog's diet.
Which are designed to provide a more natural diet to boost their overall health and be easy to digest. they offer wholesome ingredients in a variety of flavors and come in at price points to suit any dog and its owner.
Grains are a form of carbohydrate and, just like for humans, are a maximum source of energy for your dogs.



Here is the list of Best Grain Free Dog Foods
1. Taste of the Wild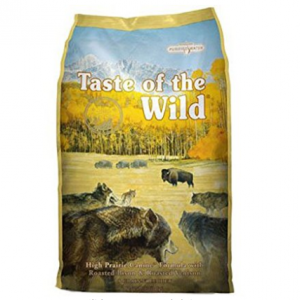 Price: $48.99
Taste of the Wild dry dog food is one of the highest rated, grain free dry dog foods. A grain-free formula with sweet potatoes and peas provides extremely digestible energy for your active dog.
Taste of the Wild is made with real roasted meats supplemented with fruits and vegetables and is often fully grain free. The proteins are highly digestible and the naturally occurring probiotics, antioxidants, vitamins, and minerals protect your dog's immune system so much more.
This taste of the Wild dry dog food contains real roasted meat and bison is the first ingredient in the list, the dog received nutritious proteins with all essential amino acids. If your dog has some skin issues, try to switch to taste of the Wild Canine Formula and see if there is a change.
If you are looking for a dog food with all natural ingredients, including fruits and vegetables, this is a great choice for your dog.

2. BLUE Wilderness High Protein Grain Free Adult Dry Dog Food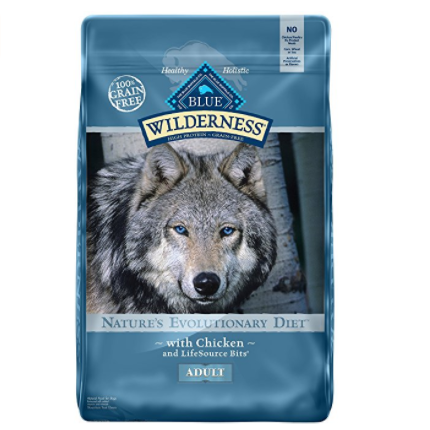 Price: $28.99
BLUE Wilderness Chicken recipe. This Grain Free recipe features a precise balance of carbohydrates and calories to support your dog's daily dietary needs. Blue Buffalo makes premium-quality pet foods featuring real meat, fruit, and vegetables.
High-protein and Grain Free, and contains wholesome fruits and veggies to provide your dog with essential vitamins and minerals.
There is absolutely no corn, wheat, soy, poultry by-products and nothing artificial in this ingredient line up. made with deboned chicken, chicken meal and fish meal to supply the protein your dog needs.
This grain-free Freedom line has formulas specifically suited for every breed size and every life stage so that you can meet the nutritional needs of your dog throughout his entire life.
3. Merrick Grain Free Dry Dog Food
Price: $13.54
Merrick grain-free recipes feature industry-leading levels of Omega 6 and Omega 3 fatty acids to help in a healthy skin and coat for dogs, and leading levels of glucosamine and chondroitin for healthy hips and joints.
These recipes provide leading levels of quality protein, along with farm-fresh fruits and vegetables like sweet potatoes, blueberries, peas and more.




One of their best lines is the Merrick Grain-Free, offering great flavors that include whole meats, vegetables and more. Their food is made in the U.S.A.
Read also: Merrick Dog Food
4. Wellness CORE Natural Grain Free Dry Dog Food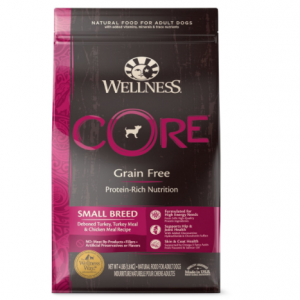 Price: $15.49
Wellness CORE Natural Grain Free Dry dog foods 100% natural grain free dog food. made with turkey, chicken, salmon oil and fruits and vegetables. wellness Core Natural is filled with antioxidants, probiotics, and different supplements to help support coat, bone and joint health, while also keeping your dog's gums and teeth looking good.
Wellness CORE grain free dog food formulas are based on the nutritional philosophy that dogs thrive on a diet mainly comprised of meat. Their food is wheat, grain, corn, and soy free as well. they are high in protein, low in fat, and GMO-free.
Wellness offers a variety of flavors, as well as dry and wet options. wellness also offers grain-free snacks for your dog.
This dog food also has added supplements including omega 3 and 6 fatty acids to give your dog a healthy coat and skin and taurine for a healthy heart.
5. CANIDAE Grain Free PURE Dry Dog Food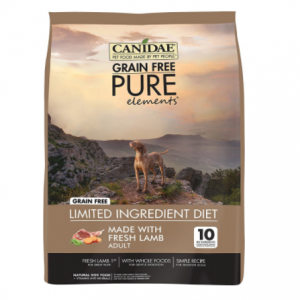 Price: $56.99
CANIDAE Grain Free PURE formulas use simple recipes. one of the handy things about Canidae pet foods is that they are all grain-free. And even if your dog isn't sensitive to ingredients, they'll still love the great taste.
Made with fresh meat or fish first, paired with whole ingredients like sweet potatoes, peas, lentils, or chickpeas—never corn, wheat or soy. Feed your dog all the great taste they crave and all the nutrition they need.
A simple recipe made with fresh lamb for excellent taste and whole foods like sweet potatoes, chickpeas, and peas for light digestion. A restricted ingredient diet can help dogs with sensitivities.
6. Purina ONE SmartBlend True Instinct Grain Free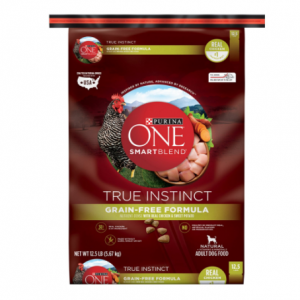 Price: $14.99
Purina One SmartBlend is an affordable alternative to expensive brands with a pleasant mix of ingredients your furry friend will gobble right up. It's made with the nutrient dense nutrition dogs crave. Real chicken is the first ingredient and each of the ingredients in this formula has a purpose.




This natural dog food without corn, wheat or soy, providing you with a grain-free option that has the protein and energy active dogs need. each serving contains 30% protein to support his strong muscles and active lifestyle, and antioxidants from four sources help to support your dog's healthy immune system.
Chicken is the main ingredient supply with an inexpensive 30% rate. Natural, therefore, urges of glucosamine facilitate support healthy joints so he can keep up with his daily adventures.
7. Whole Earth Farms Grain Free Recipe Dry Dog Food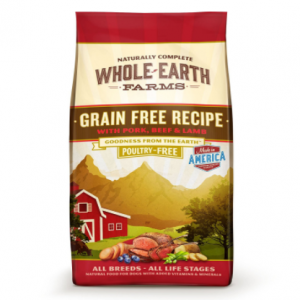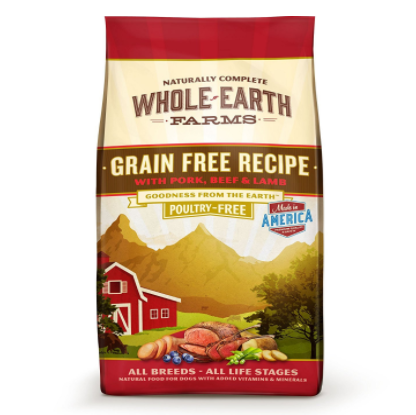 Price: $39.98
Whole Earth Farms is a naturally nutritious dog food that offers all the goodness from the earth at an excellent price. Whole Earth Farms dry food recipes were created as a very holistic food at a value price, while not compromising the standard of the one you love pet's food.
Pork meal, beef and lamb, plus dried blueberries, sage and thyme are simply a few of the nutritious ingredients in Whole Earth Farms Grain Free recipe dog food.
Only the highest-quality protein, vitamins and minerals are used in their recipes, which may facilitate clear up skin allergies or stomach issues in no time. Whole Earth Farms provides your dog with the best the earth has to offer.

8. The Honest Kitchen Human Grade Dehydrated Grain Free Dog Food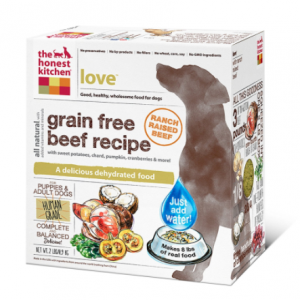 Price: $24.49
The Honest kitchen dog food is produced in a human food facility rather than a pet food plant. they make all-natural human grade pet food. This dog food is made with no by-products, preservatives or GMO ingredients. It can be prepared quickly by simply adding water.
The Honest kitchen grain free dehydrated dog food is the closest pet owners will get to the homemade food. This healthy dog food is made with ranch-raised beef and dehydrated for easier digestibility and to lock in nutrients.
More calories and higher fat in every batch make it the perfect meal for active puppies and adults of all breeds and sizes. All ingredients are processed in the USA in a human grade food processing facility with nothing from China.
9. Instinct Original Grain Free Recipe Natural Dry Dog Food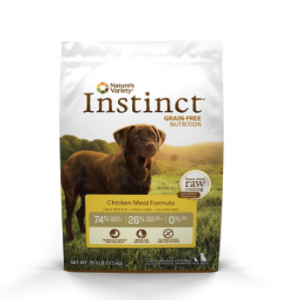 Price: $61.12
Each formula is thoughtfully balanced with the wholesome foods your dog would eat nature, like real meat or poultry, healthy vegetables and fruits, and no grain or protein. Feed ancestrally offer pets the nourishment and energy to achieve a healthy, happy life.
Each piece is rich in flavor and perfectly sized to accommodate both small and enormous dogs. 70% real animal ingredients oils, 30% vegetables, fruits and other wholesome ingredients.
Made without grain, potato, corn, wheat, soy, by-product meals or artificial colors or preservatives.
10. NUTRO MAX Grain Free Natural Adult Dry Dog Food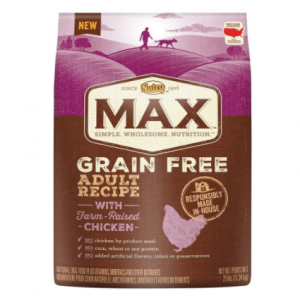 Price: $33.32
Nutro has one of the most affordable low-cost grain free dog food brands. Nutro Max Adult Grain Free dog food contains no grain and leaves dogs satisfied. made with farm-raised chicken, plus legumes and potatoes as healthy alternatives to grains.
This formula, in particular, includes a high protein percentage with lamb being the first ingredient. Dogs love the savory flavors of Nutro max food for dogs, and pet parents like that great-tasting.
This dog food never contains chicken by-product meal, corn, wheat or soy protein. formulated with added vitamins and minerals, making it a nutritionally complete and balanced food your dog.
Got some questions? Or some suggestions? That's why we've got a comments section on this blog! You can feel free to leave a comment or two down below and we'll get back to you as soon as possible!


We love reading your messages……
Read also:  Top 10 benefits of Apples for dogs