Here is the list of Best Dry Dog Foods
1. PEDIGREE Complete Nutrition Adult Dry Dog Food
Price: $18.04
PEDIGREE Adult Complete Nutrition roasted Chicken, Rice & Vegetable Flavor Dry dog food. This chicken-flavor dog food is packed with B vitamins, zinc and omega-6 fatty acid to help keep adult dogs looking their best.
PEDIGREE Dry dog food also contains leading levels of the antioxidant, vitamin E, to help keep adult dogs' immune systems strong. This foods contain no high fructose corn syrup nor artificial flavors and provide complete nutrition, though fillers are relatively abundant. This balanced dog food features our special fiber mix, that helps promote healthy digestion, to keep yard patrol in control. Feed your dog this oral care kibble to help keep teeth clean and give them an excellent taste.
2. Rachael Ray Nutrish Natural Dry Dog Food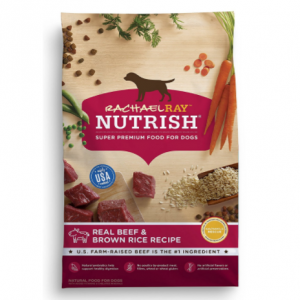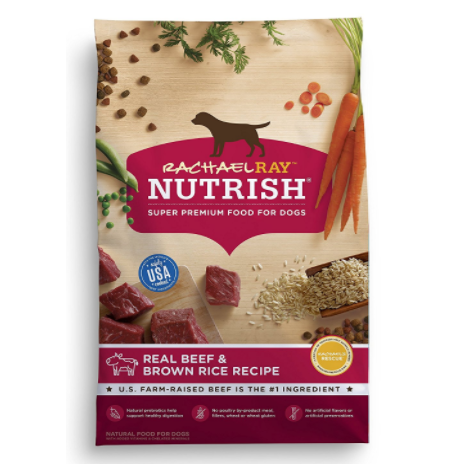 Price: $26.94
Rachael Ray Nutrish Natural Dry dog food. This food made with simple, natural ingredients, combined with wholesome brown rice, vegetables and added vitamins & minerals.
There are no artificial flavors, and this food goes the extra step of adding prebiotics and is nutritionally complete with the inclusion of chelated minerals. This high-quality protein provides essential nutrients to help support healthy organs and lean muscle mass.
Corn and soybeans are used as fillers here, but otherwise, there are no meat by-products or wheat.
3. IAMS PROACTIVE HEALTH Adult MiniChunks Dry Dog Food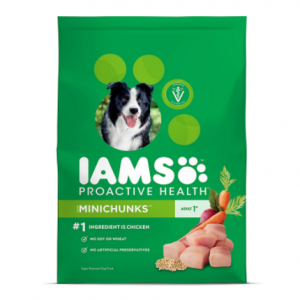 Price: $23.49
IAMS PROACTIVE HEALTH Adult Minichunks Dry dog food 100% complete and balanced nutrition food. IAMS dog food is formed with top quality ingredients & no fillers, real chicken as the first ingredient.
It includes L-carnitine to assist burn fat and promote a healthy metabolism. Iams proactive health dog food is also formulated with seven essential nutrients to nourish your dog's heart.
IAMS provides a wide range of premium recipes for different dogs so that dogs of every shape and size can be at their best.
4. Diamond Naturals Dry Food for Adult Dog
Price: $31.99
Diamond Pet Foods are made with the best quality ingredients and formulated to help your pet keep active and feel great.
Powerful antioxidants and phytonutrients from superfoods like blueberries, oranges, spinach and carrots facilitate to support the immune system and a healthy lifestyle.
With this food, your dog is receiving optimum antioxidant nutrition, while omega-6 and omega-3 fatty acids keep the skin and coat healthy and shiny.
It uses real beef protein to give your dog all of the key proteins your dog needs. every diamond pet food formula contains carefully determined levels of protein, fat and other essential nutrients to support ideal body condition.
5. Eagle Pack Natural Dry Dog Food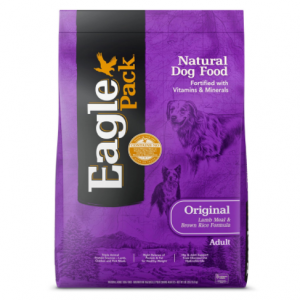 Price: $39.99
Eagle Pack Natural Dry dog food. Brown rice, oatmeal and tomato pomace provide natural nutrients and fiber for healthy digestion and firm stools. additional nutritional support comes from flaxseed to nourish skin and coat.
Vitamin and mineral blend and antioxidants to support healthy immune function. This food combined with health-promoting antioxidant support, omega fatty acids and glucosamine hydrochloride to assist support the everyday nutritional needs of adult dogs.
Made with all natural, delicious quality ingredients, including premium protein from real lamb. All natural ingredients with no corn, wheat, meat by-products, artificial colors, flavors or preservatives.
6. Hill's Science Diet Adult Light Dry Dog Food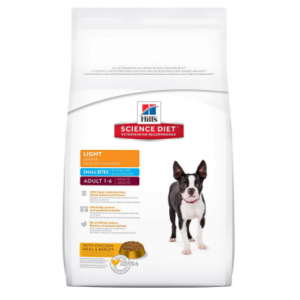 Price: $43.45
This premium dry food for weight control has 18 fewer calories when compared to Hill's Science Diet Adult Advanced Fitness dry dog food. It's made with chicken as the first ingredient. They contain high-quality proteins and natural ingredients, and vitamins, minerals and amino acids that deliver clinically proven antioxidant benefits.
Hill's Science Diet Adult dry dog food provides precisely balanced nutrition in a smaller kibble for a light, healthy lifestyle. Science Diet dry dog foods contain no artificial colors, flavors or preservatives.
7. Purina ONE SmartBlend True Instinct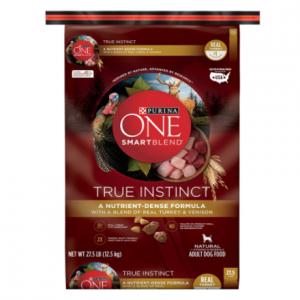 Price: $25.64
Purina ONE SmartBlend True Instinct Turkey and Venison Formula Dry dog food. This natural recipe and vitamins and minerals feature a mix of real turkey, venison and other high-quality ingredients. Your dog gets a full dose of glucosamine and omega-6, and the formula, on the whole, is extremely digested.
This natural dog food provides a natural source of glucosamine to help support your dog's healthy joints for his active lifestyle. Nature plus science helps provide 100% complete and balanced nutrition to support an adult dog's whole body health, giving you a smart solution for his nutritional needs.
8. Taste of the Wild Dry Dog Food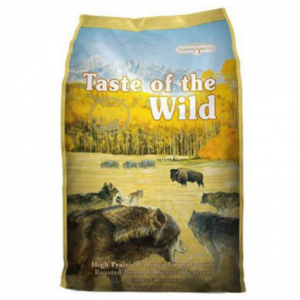 Price: $48.99
Taste of the Wild is one of the most widespread and really testy brands for the dog. It comes with a high-quality mix that's free of all grains and instead uses healthy carbohydrates in the form of sweet potatoes and peas.
The protein source is also very good, relying on the tasty bison and venison as the main ingredient. formulated with unique protein sources, real vegetables and fruits and premium ingredients that provide complete nutrition in rich flavors that will satisfy the wild taste your pet craves.
Made with real roasted meat, this formula offers a taste sensation like no other. additionally realize lots of antioxidants, vitamins, and minerals that go a long way towards balancing the formula and giving your pooch everything they need to stay in great health.
9. Rachael Ray Nutrish Just 6 Natural Dry Dog Food
Price: $30.48
Rachael Ray Nutrish just 6 Natural Dry dog food. It comes with lamb as the primary ingredient, but there's also a strong focus on limited ingredients – and the brand name itself derives from this focus, being known as the 'just 6' formula.
The formula is also very affordable. It's simply digestible and provides essential amino acids and B vitamins to help maintain lean muscle and healthy organs.
10. Natural Balance Original Ultra Whole Body Health Dry Dog Food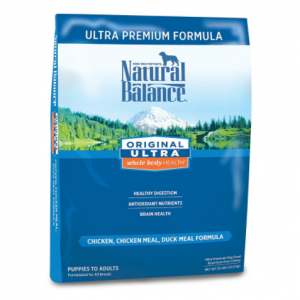 Price: $52.09
Natural Balance Original Ultra Whole Body Health Dry dog food. A balanced mix of high-quality protein sources supports healthy muscles. formulated for all breeds and life stages from growing puppies.
This healthy dog food offers an optimal balance of premium proteins and key nutrients with no artificial flavors or colors.
Proper levels of calcium and phosphorus maintain strong bones and teeth, while balanced omega-6 and omega-3 ratios support healthy skin and a luxurious coat.
Got some questions? Or some suggestions? That's why we've got a comments section on this blog! You can feel free to leave a comment or two down below and we'll get back to you as soon as possible!
We love reading your messages……
Do you have a beautiful dog? Submit your dog photo or video via this form to be included in our upcoming posts.