Doberman lab mix is a cross between Doberman pinscher and Labrador retriever. It is also known as Doberdor is a large dog, given that both its parents are big breeds. Doberman lab mix comes in three colors: golden, chocolate and black. On the other hand, Doberman Pinschers have a pattern of black and tan, or, chocolate and faun.
Doberdor content overview
History of Doberman lab mix
The Doberman lab mix is not much history because it's a cross breed between Doberman and Labrador retriever. Doberman Lab Mix's history can be traced to its parent breeds and their origins. It's also known as Doberdor. This mixed breed combines one of the world's most popular family dogs with a dog that's unfortunately notorious for aggression and lack of suitability as a pet. The Labrador was first developed in Newfoundland, Canada. Where smaller waterfowl hunting dogs were mated with Newfoundlands.
If you own a beautiful Doberman lab mix and would like to share information with us or have pictures that you would like to be included in our dog gallery, we would love to hear from you. Contact here
Doberman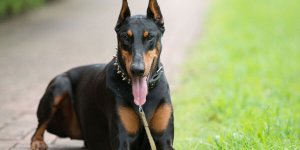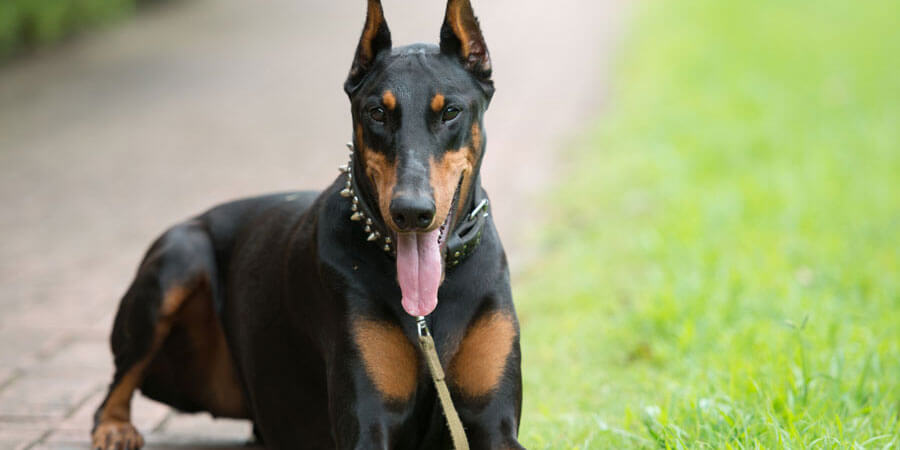 The Doberman Pinscher is a medium-large breed of domestic dog originally developed around 1890 by Karl Friedrich Louis Dobermann, a tax collector from Germany. Doberman Pinschers are well known as intelligent, alert, and tenaciously loyal companions and guard dogs
Origin: Germany
Weight: Male 40–45 kilograms, Female 32–35 kilograms
Height: Male 68 to 72 centimeters, Female 63 to 68 centimeters
Labrador retriever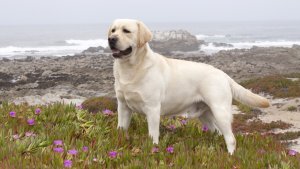 The Labrador Retriever, also Labrador, is a type of retriever-gun dog. The Labrador Retriever, also Labrador, is a type of retriever-gun dog. Labrador Retrievers are registered in three colors: black, Yellow and chocolate. They have a reputation as a very even-tempered breed and an excellent family dog
Origin: United Kingdom & Canada
Weight: Male 65–80 lb, Female 55–70 lb
Height: 22.5-24.5 inches (male), 21.5-23.5 inches (female)
Lifespan: 12–13 years
Different names or Types
Recognized Names
Recognition
Appearance & Characteristics
The Doberdor is a large dog, given that both its parents are big breeds. However, as with all mix breeds, it is difficult to predict the exact size, as pups can take on different characteristics of their parents.
Breed basic characteristics
Lifespan: 10-14 years
Trainability: Good
Friendliness: Good
Exercise Needs: Daily exercise
Energy Level: High energy
Grooming: Require weekly grooming
Protective Ability: Good protective instincts
Hypoallergenic Breed:
Space Requirements: House with Yard
Height/Weight
Height: 22 to 27 inches
Weight: 60 to 100 pounds.
The height and weight range will be similar to that of the parents
Sound
Behavior
Doberman Lab Mix dogs are on of the most affectionate breeds.They have an unconditional love and care to give
Size, Proportion, Substance
Size: This breed is big in size
Proportion:
Substance:
Serious Faults:
Head
Skull:
Muzzle: The Doberman lab mix has a long muzzle and stands on its toes and is not usually heavy-footed.
Eyes: Eyes almond formed, moderately deep set, with vigorous, energetic expression.
Ears: The ears of this breed are usually long and dropped
Teeth: The teeth are strongly developed and white.
Serious Faults:
Neck, Topline, Body
Neck: Neck proudly carried, well muscled and dry. Well arched, with the nape of neck widening gradually toward the body.
Topline:
Body: Chest broad with forechest well defined. Ribs well sprung from the spine but flattened in the lower end to permit elbow clearance.
Serious Faults:
Forequarters
Shoulders: Shoulder Blade-sloping forward and downward at a 45-degree angle to the ground meets the upper arm at an angle of 90 degrees.
Forelegs: Legs seen from front and side, perfectly straight and parallel to each other from elbow to pastern; muscled and sinewy, with heavy bone.
Front Feet:
Hindquarters
Higher and lower shanks are a unit of equal length. Whereas the dog is at rest, hock to heel is perpendicular to the bottom.
Rear Legs:
Hind Feet:
Tail: Doberman lab mix has long legs, big feet, and a strong tail.
Coat
Doberman lab mix might have the short, sleek coat of the Dobie, or the thicker, double coat of the Lab
Winter Coat:
Summer Coat:
Shedding:
Color and Markings
Labrador puppies come in solid colors with no patterns, but a mixed puppy could inherit its color from the Doberman side.
Coat Color and Markings
If Doberman Lab mix puppies more closely resemble their Labrador parent, then their coat color may be one of the following:
Gait
Personality and Temperament
Personality
The personality of Doberman lab mix is very similar to Doberman and Labrador retriever in certain aspects, it is possible to give a fair estimate of a Doberdor's temperament. The Doberdor is a smart and easy to train the dog. It is quick to follow instructions and is an enthusiastic learner.
Temperament
This dog is loyal, loving, alert, active, and sociable. It is a good watchdog, and may also be adept at guarding if it takes after the Doberman. This is going to be a large dog. You will need to be careful with the aggression and temperament.
Activity Requirements
Doberdor will require a lot of space to play in. A house with a backyard is the perfect environment for them. If you really cannot afford a large home, at least provide a large space that will serve as a sort of playpen for your dog. The Doberdor is an active hybrid requiring at least 2 to 3 long walks per day. Doberdors love to play fetch and retrieve toys, and they are always game to swim and run, all traits characteristic of Labradors.
Behavioral Traits
It's vitally important that you socialize your pup with other dogs, places, and humans.
Trainability
Some fancy coaching well and acquire new tasks simply and affably. In spite of the individual, all Doberman lab mix ought to be trained with consistency, sturdy leadership and a firm, however light manner. Once the leadership is established, most Doberdor takes well to advanced coaching.
Health & problems
Health
All hybrid dogs have the potential to develop genetic health problems same as Doberman lab mix is susceptible to some things more than others. However, there are some common health problems that affect its parent breeds.
These health issues are common in Doberman lab mix like hip dysplasia, elbow dysplasia, and eye issues in the Lab, and dilated cardiomyopathy etc.
Feeding Plan
Puppies just like human babies are growing rapidly. Their muscles, organs, and bones are forever taking shape and as such, they need extra nutrients in other to fuel this rapid growth. You should start your puppy on solid food by the 4th week of life.
The Doberman lab mix requires a healthy diet to stay away from any kind of diseases.
Doberman lab mix pups between 8 and 12 weeks old need four meals in a day.
3 to 6 months old Pup Doberman needs soft food, especially milk until 6 weeks.
Doberdor puppy 3 times a day between 8 to 12 weeks.
Feed puppies 6 months to 1 year two times every twenty-four hours.
By the time your Doberdor hits her first birthday, 1 meal every 24 hours is usually sufficient.
Sometimes adult Doberman lab mix might eat 2 smaller servings.
Apart from giving them two and a half to three cups of dry dog food, Doberman lab mix can also be given a fish diet to help retain the oil in their skin. A special liquid diet is needed for those without middle teeth.
Living conditions
Doberman lab mix is not really suitable for apartment like it's can perfect for house with yard and big house
Health Problems
Doberdor has a tendency to develop hip dysplasia coupled along with an energetic nature.
Infections: Doberman lab mix is susceptible to bacterial and viral infections the same ones that all dogs can get such as parvovirus, rabies, and distemper.
How to take care?
They are very active dogs can take plenty of exercises. The Doberdor is a wonderful family dog that is loving, active, and very loyal. With proper socialization and training, it will be the dog that you had always wanted.
Exercise needed
The Doberdor is a loving, caring and protective family dogs that love to play and go for long walks. This is going to be an active breed that needs its dose of daily exercise. Two walks a day and some extra playtime will be helpful for your dog to burn off its excess energy.
You can use below Best dog exercise Equipments
Grooming & Bruising
You'll be quite lucky in the grooming department if you find a Doberman Lab mix with the Doberman's thin and shiny coat. These clean dogs are low-maintenance when it comes to grooming. Brushing the dog a minimum of once per week is enough to stay loose hair in check. They are doing not need frequent bathing. Regular brushing can facilitate keep him and your home neat. Brush his teeth for good overall health and fresh breath. On the days he needs a bath, uses a dog shampoo, not a human product.
You can use following Equipments for best grooming
Grooming dogs require a lot of expertise as well as a wide range of equipment. Here is a list of best grooming equipments for Doberman lab mix.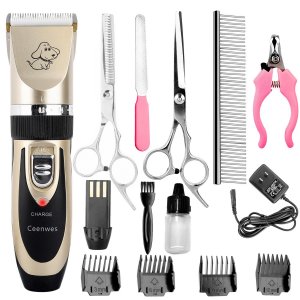 Here is a best and perfect Grooming kit for your Doberman lab mix.
These dog grooming clippers also come with 11 tools: 1 × Pet clipper 1 × AC Power Adapter,1 × Cleaning Brush,4 × Comb Attachments 1 × Stainless Steel Scissor,1 ×Stainless teeth scissor,1 × Stainless Steel Comb,1 × Nail Clipper Kit,1 × Nail File,1 × Oil.
Doberman lab mix Grooming table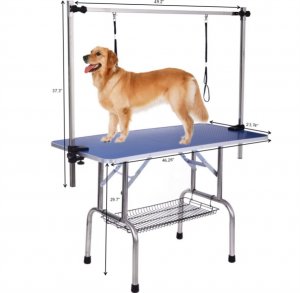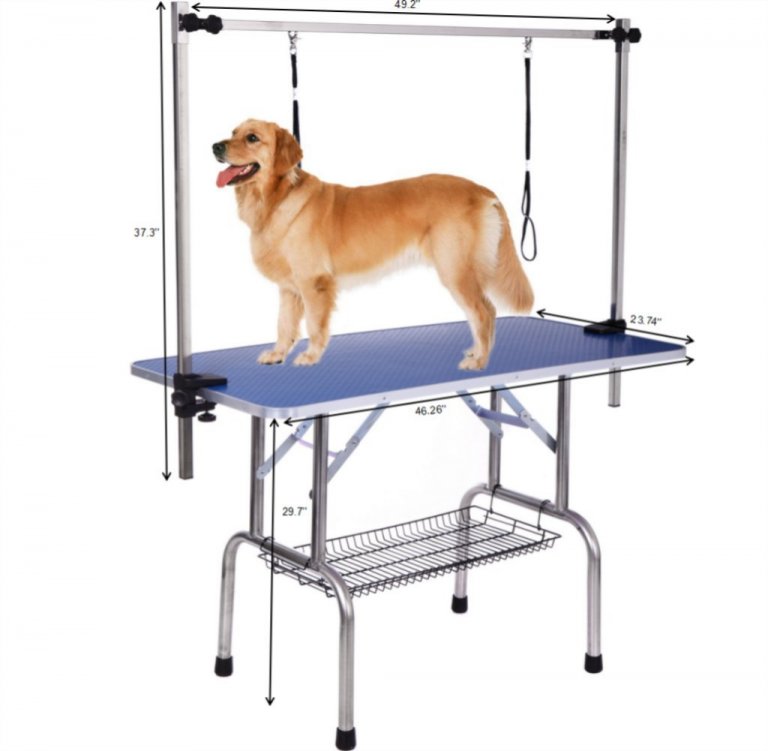 One of the most critical items for groomers is their table. In this day there are many tables are available in the market like Electric Grooming Tables, Hydraulic Grooming Tables, Portable Grooming Tables so you can choose any for your lovely dog.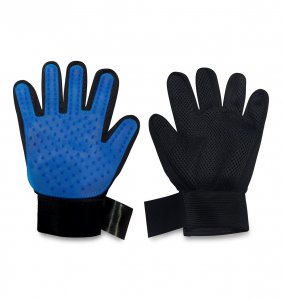 For many pet owners, grooming is a necessary chore. So dogs and cats shy away from the rough bristles of a regular brush. If you have a sensitive, try him or her with one of these pet grooming gloves. Gloves is a most important equipment for Doberman lab mix grooming so if you love your dog then use this.
Dental Health check up
Proper dental health care is as important for every dog similarly it is important for this dog puppy. If you want to adopt this puppy, then it is very important to take care of his teeth. Brush your dog's teeth at the same time every day, making their daily routine training very easy. Don't force your dog's mouth open like you would give them a bell. Instead, gently place the brush between their lips and teeth.
Love & affection
Love and affection are useful for every dog. If you give a love and affection to your Doberman lab mix than the dog will love you back. Your Doberman lab mix puppy will be a member of your family, So Give lots of love and affection for your cute puppy. Most importantly, spend time with your dog because that your dog needs love and affection.
Feed Healthy food
Feeding a healthy meal in the dog's life is the most important. In this day there are many healthy foods are available on the market so that you can choose any healthy food for your dog. Because healthy food is the most important for dog health care. The young Doberman lab mix is not a hearty eater as most breeds his size. He must often encourage with meat juices or bacon grease mix in the food to entice him to eat.
The following items should never be fed to Doberman lab mix dog:
Alcohol, beer, wine or liquor
Chocolate, coffee, or tea
Grapes or raisins
Moldy or spoiled food of any kind
Onions, chives, and garlic
Poultry bones
Salt & salty foods
Tomato leaves stems or unripe fruit
Yeast dough
Doberman lab mix puppy information
Do You Love The Look Of A Doberman And The Personality Of The Labrador? Are You Hoping For A Dog That Is Both Loyal And Loving? Then You Might Be Considering A Doberman Lab Mix Puppy.
Doberman lab mix puppies for sale
PuppyFinder.com is proud to be a part of the online adoption community. Browse thru thousands of Doberman Pinscher-Labrador Retriever Dogs for Adoption in the USA, listed by Dog Rescue Organizations and individuals, to find your match. And if you really like to adopt this dog so greenfieldpuppies.com is a very good source for you.
Puppy Training
The Doberdor is a wonderful family dog that is loving, active, and very loyal. With proper socialization and training, it will be the dog that you had always wanted.
Crate training useful for every dog breed
Crate training your dog may take some time and effort but can be useful in a variety of situations. First of all, understand that crate training is not cruel. In spite of what some people may have told you, breeders and veterinarians recommend using a crate for your dog from a young age. A crate can be invaluable while you are potty-training or teaching your dog the rules of the house, it's a great way to transport your four-legged friend.
Obedience training
This is one of the basic and most important pieces of training for any crossbreed. There are 3 methods of training that we use with our Doberman lab mix, all beginning with a strong foundation in the core 5 obedience commands: come, sit, stay, heel, down. Every dog should know these 5 basic obedience commands Because it is very necessary for obedience training
Behavioral training
Behavioral training is a very important for any dog. At some point in time all of us dog owners need to administer some dog behavior training. Behavioral training is a very helpful for taking care of the dog. First of all, if you want to train your puppy to Behavioral training so find out some common behavioral issues like breaking, aggression, food guarding, howling, mouthing and chewing, separation anxiety, etc and stop this behavioral issues and train your dog easily.
Housebreaking training
Housebreaking training is absolutely important for your Doberdor puppies. When housebreaking your puppy, you need to have him in the same room with you at all times, and you need to keep an eye on him.
Jumping training
Jumping is normal behavior and not something you should punish your dog for. If you don't want a dog that jumps you can utilize these training techniques. Even if your dog is well trained she might make a mistake, though, so don't punish her for it.
Above all the training is very helpful for your dog health and training so you can try this.
Puppy price
Black, yellow and brown or chocolate Lab Doberman mix puppies are all guaranteed to have one thing in common: extreme cuteness.
Doberman lab mix price depending on the breeder.
Find a dog or puppy
Finding the right Lab Mix puppy can be dog gone hard work. PuppyFind provides a convenient and efficient means of selecting and purchasing the perfect Lab Mix puppy (or Lab Mix puppies) from the comfort of your home, 24 hours a day, 7 days a week
Find a breeder
Since many breeders focus on perfecting purebred dogs, it may be more feasible to find a mixed breed for adoption at a local shelter or perhaps a Doberman Lab cross rescue.
Things to consider adopting a Doberman lab mix
If you're seriously considering adopting a Doberman lab mix, you should know.
Doberman lab mix is very intelligent, intuitive dogs.
Doberdor value more highly to be terribly near their family and like to be unbroken inside thanks to the weather.
Before you adopt a Doberman lab mix, consider how much time your new family member will spend alone. Remember, a puppy requires constant attention.
Doberman lab mix puppies are super cute, but simply put, puppies can be adorable, relentless machines of destruction.
Before you adopt a puppy, ask yourself if you are available to walk your dog several times throughout the day.
You also have the advantage of knowing that your dog is physically able to "hold it" for several hours at a stretch.
Ask anybody who has adopted an adult dog then after adopts an adult dog.
If you're unsure of whether the new dog you've chosen is right for your family and lifestyle, consider fostering before making a commitment.
Advantages of Dog
Very friendly, easily trained
Easy going personality
Disadvantages of Dog
They typically don't live as long
Sheds all year
Got some questions? Or some suggestions? That's why we've got a comments section on this blog! You can feel free to leave a comment or two down below and we'll get back to you as soon as possible!
We love reading your messages……
Also read: Top 10 benefits of having a Beagle
Photo gallery